Globe pendant lighting is a timeless, flexible lighting option that works well for many spaces and styles. Proper planning during a renovation can be very helpful to ensure you obtain the best pendant lighting for your space. Several things to consider include hanging height, globe size and finish, and proper spacing. We have some tips to ensure these globe light fixtures for your kitchen, dining room or anywhere in your home are installed well in your space.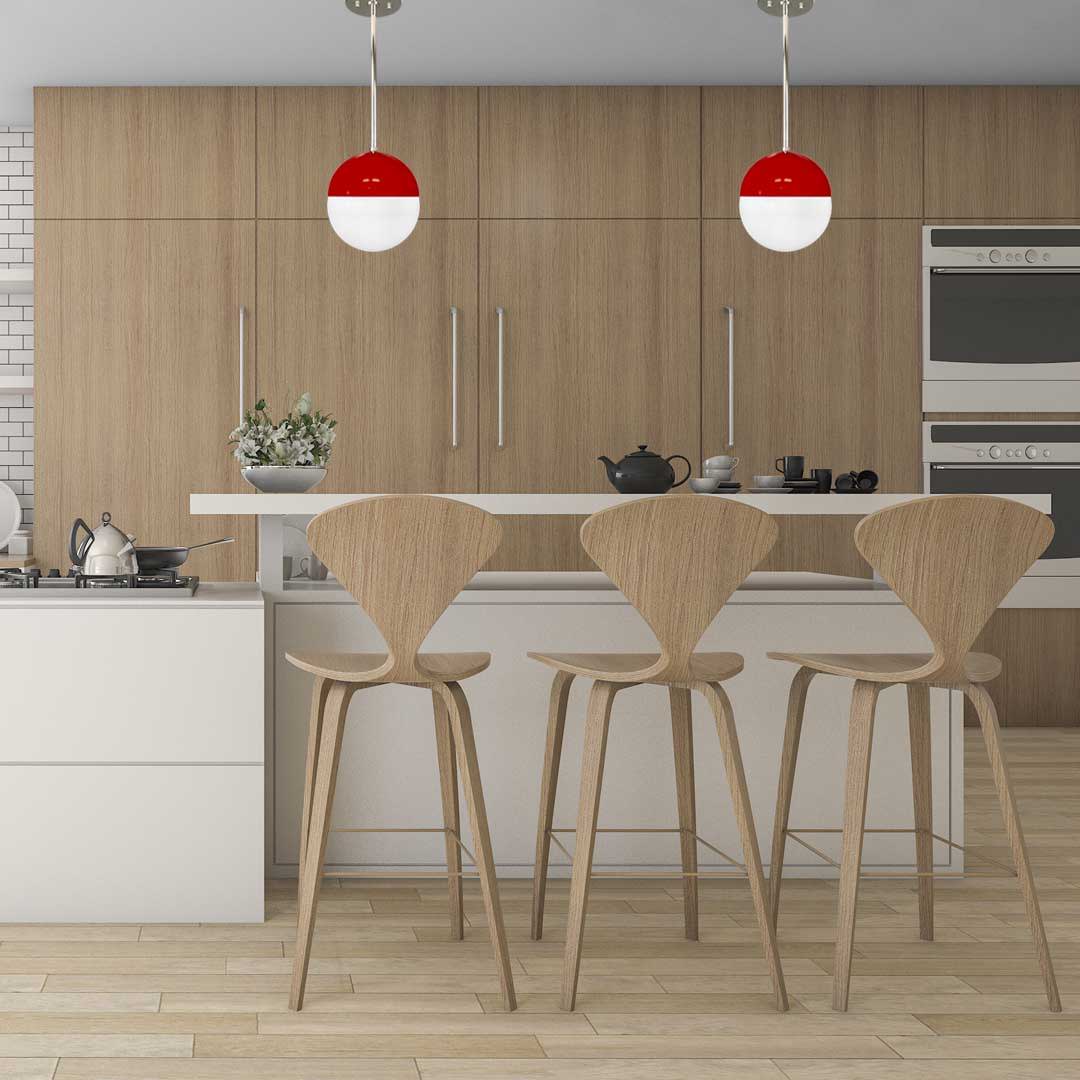 ---
Hanging light fixtures for your kitchen requires 28"-36" of space between the bottom of the globe and the top of the kitchen island. This applies for bars as well. Typically, 2-3 pendants are used above an island or bar. When installing multiple globe pendant lights, be sure to have 12"-18" of space in-between the globes. Also, be sure to hang them high enough that no one will bump their head! Most important is to ensure you have enough light for taskwork. If you're unsure how much light you need for your space, check out our blog post to determine how much light your room needs.
The bedroom is a great place to add globe pendant lighting without taking up floor or nightstand space. Bedroom lights also add desirable ambiance or comfortable reading light. Globe pendants are most often installed in a bedroom on one side of or flanking the bed. When installed beside the bed, we recommend hanging the pendants 12"-20" above the bedside tables or 60"-72" from the floor to the base of the globe or fixture.
Globe pendants can also be used as bathroom vanity lights. While sconces are most often used for lighting up a vanity, pendants are a stylish option for brightening a bathroom as well. We recommend that the bottom of the globe hangs 24"-26" above the vanity counter or near eye level. Using globes on both sides of the mirror will ensure you the best light when using the mirror also.
---
After determining the best space and amount of light for your pendant lighting, decide your preferred method of hanging. Achieve different hanging heights and aesthetic by using a rod, chain or both. We love the look of a colorful pendant installed with high-gauge brass rods to add a high-end feel. Choose a clear glass globe to show off a beautiful LED Edison bulb, or choose a white globe to diffuse the brightness of the bulb you choose.
Not a fan of globes? We offer pendants without globes that feature decorative dome shades or acrylic details. As far as styling goes, that's up to you! Choose your finish, color and style of pendant to complement your room design.